Baby has tooth removed at just 12 days old
News
Posted by: probe-admin 8th August 2018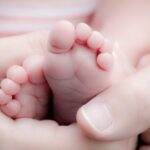 As revealed on the BBC News, a baby girl from Devon has had a tooth removed at just 12 days old.
Isla-Rose Heasman is thought to be the youngest patient in the UK, with her mother saying she "never expected" to take her daughter to the dentist at such an age.
With most babies starting to teethe at roughly six months, it was no surprise Isla-Rose was too young for anaesthetic, instead settling for some numbing cream.
The dentist who carried out the procedure, Alaa Jebur, said that she "hardly made a sound" during the procedure and there was nothing to suggest her teeth would develop abnormally.
According to the BDA, about 2,000 babies are born with natal teeth – which are present above the gum line at birth. The condition can lead to problems with breast-feeding, ulceration of the child's tongue, and there is a risk of a detached tooth entering their lungs. Luckily, these are said to be rare.
Isla-Rose came away with her very own sticker for being brave, courtesy of The Seven Trees Dental Access Centre.
---
No Comments
---
No comments yet.
---
Sorry, the comment form is closed at this time.